Benchmade Mini Bugout Scales - NO Lanyard - Type III Hard Coat - RH Carry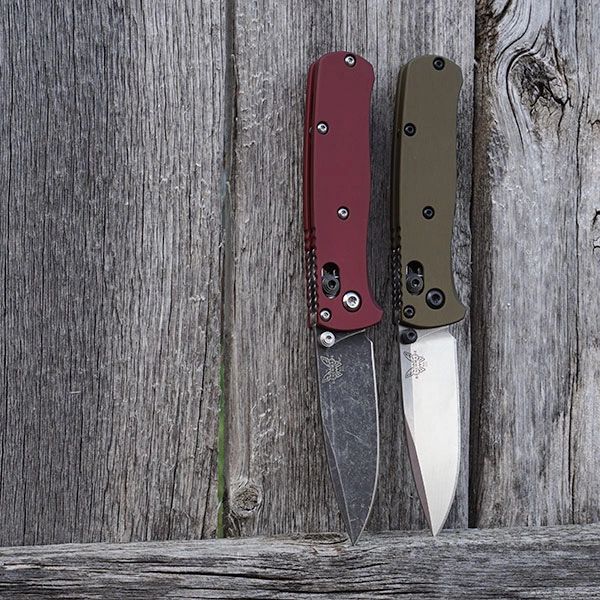 Benchmade Mini Bugout Scales - NO Lanyard - Type III Hard Coat - RH Carry
Replacement Scales for the Benchmade Mini Bugout – Right Hand Carry – NO Lanyard – Type III Hard Coat
The smooth aluminum replacement scales for the Benchmade Mini Bugout with Mil-Spec Type-III hard coat will transform your knife into everything you'd expect from a hard-working cutting tool. They are tough as nails, yet elegant and refined. Once you get your hand wrapped around a set, everything else will feel like a toy. These grips are machined to incredible standards from 6061-T6 aircraft aluminum followed by Mil-Spec Type-III hard coat anodizing. Give them a try, we guarantee you won't be disappointed. Like everything else here at AWT, these grips are backed by our Lifetime Warranty. If you break it, we replace it at no cost to you.
 These are designed and precision milled right here in Texas!
 - Knife With AWT Aluminum Grips Weight: 2.0 oz.
- Factory Knife With Plastic Grips Weight: 1.5 oz.
Type III Hardcoat Anodized Colors - Black, Sniper Grey, OD Green, Flat Dark Earth, Brick Red, Billiard Blue
Type II Anodized Colors - Cobalt Blue, Weathered Red

Due to the nature of Type III Hardcoat anodizing there may be slight color variations from batch to batch or side to side. Sometimes there may also be some light mottling in the color, or the grain of the aluminum may show through the coating. This is normal and in NO way affects the performance or function of the grips whatsoever. We feel that it is a worthy tradeoff for a vastly superior coating hardness. The Type III coating we use is incredibly hard (harder than steel actually) and is the MOST durable coating available on the market.
Oversized washers enhance your knife by providing a larger surface area which improves action and reduces blade play.

Reviews