BLEMISHED Benchmade Griptilian Scales - Archon Series - Contoured - Anodized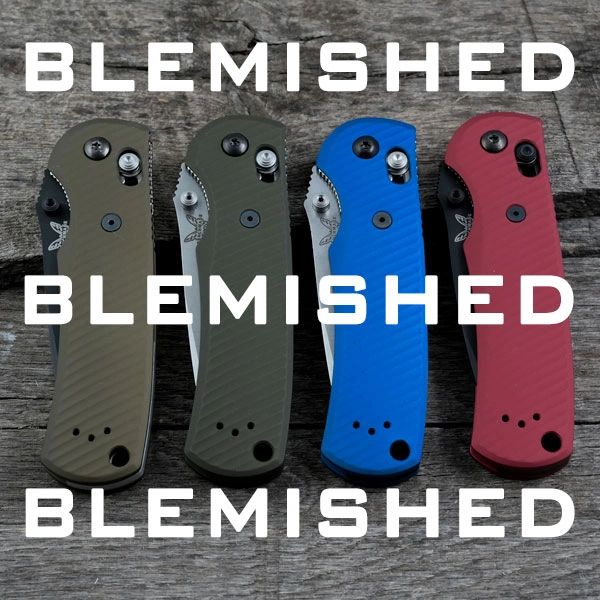 BLEMISHED Benchmade Griptilian Scales - Archon Series - Contoured - Anodized
BLEMISHED Benchmade Griptilian Scales - Archon Series - Contoured - Anodized

BLEMS ARE NOT RETURNABLE. SOLD AS IS.

On almost every batch we have blemished parts. They may have small defects such as minor machining marks or dings, but most common are color variations in the anodizing that are too far out of spec. Color variation between the two sides will be present, along with hard lines, and other color and texture issues. They fit, function, and are just as tough as our regular grips but they cost a lot less! They are a good way to get a great product at a significantly reduced price.
---FROM ORIGINAL LISTING---
"Archon" means "Ruler" in Greek and our new Archon series Griptilian rules them all. With this anodized series we combined our unique understanding of scale manufacturing along with customer feedback to make what we feel is the perfect scale. The contoured surface vastly improves ergonomics, while making it easier to access the AXIS lock, and increased rigidity over nylon versions. The scalloped pattern makes for an incredible grip while the redesigned profile eliminates any and all hot-spots. The ambidextrous clip holes allow for both right or left hand tip-up carry. These scales will fit either the nylon or the G10 Griptilian. These will not fit the Hogue Doug Ritter version. We do have a set for the Hogue Ritter and they can be found here COMING SOON. The Archon truly leaves nothing to be desired.
Each kit comes with 2 grip panels, 1 backspacer, and all necessary hardware (pivot assembly is reused from your existing knife). As with everything else at AWT, these scales are machined from 6061 aluminum to incredible standards. Give them a try, we guarantee you won't be disappointed. As always, our grips are backed by our Lifetime Warranty. If you break it, we replace it at no cost to you.

- Factory Knife With Plastic Grips Weight: 3.88 oz.
- Knife With AWT Aluminum Grips Weight: 4.91 oz.
Type III Hardcoat Anodized Colors - Black, Sniper Grey, OD Green, Flat Dark Earth, Brick Red, Billiard Blue
Type II Anodized Colors - Cobalt Blue, Weathered Red
You buy Type III hard coat for toughness not perfect color matching. If you want colors to be exact, please purchase Cerakote. Due to the nature of Type III Hardcoat anodizing there may be slight color variations from batch to batch or side to side. Sometimes there may also be some light mottling in the color, or the grain of the aluminum may show through the coating. This is normal and in NO way affects the performance or function of the grips whatsoever. We feel that it is a worthy tradeoff for a vastly superior coating hardness. The Type III coating we use is incredibly hard (harder than steel actually) and is the MOST durable coating available on the market.

Reviews