Spyderco Shaman SKINNY Scales - Agent Series - Clip Side Liner Delete - Cerakote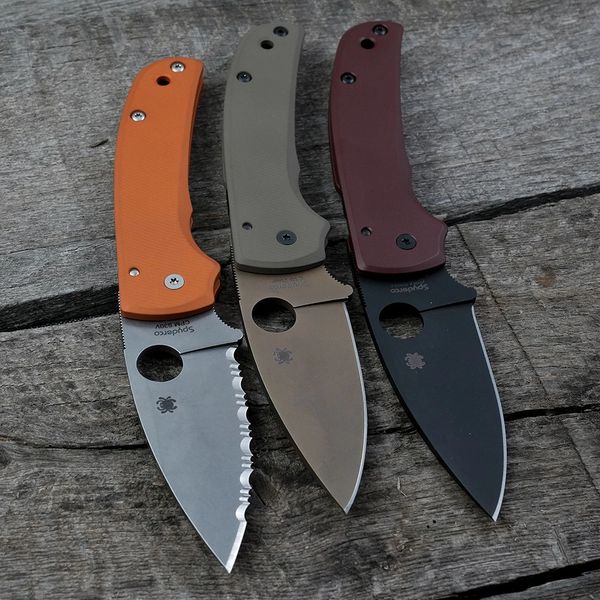 Spyderco Shaman SKINNY Scales - Agent Series - Clip Side Liner Delete - Cerakote
Spyderco Shaman SKINNY Scales - Agent Series - Clip Side Liner Delete - Cerakote

Improve the functionality and style of your Spyderco Shaman with our precision-milled Agent SKINNY Shaman Scales. Made from durable 6061 aluminum, these aftermarket scales are designed to enhance the performance and aesthetics of your knife. One of the liners has been removed, which reduces the overall weight by 0.5 ounce. Additionally, by removing the backspacer and installing stand-offs, you can further reduce the weight close to 1.0 ounce. (This can be done with any standard Spyderco stand-off. We do not sell these. Knives Plus has hardware kits, we recommend the Yojimbo kit since it has multiple stand-offs, plus you'll have additional hardware. Links below if you'd like to learn more.)  The aggressive chamfers provide a sleek and modern look, while also improving grip and handling. Overall width has slightly been reduced from 0.535" to 0.500". Give your Shaman knife a unique, custom look with our SKINNY Aluminum Scales, perfect for knife enthusiasts seeking to upgrade their favorite blade.
We have listed pivot screws because the stock screws can bottom out on each other. The ones provided are shorter and alleviate any issue that might come up with installation. 

CERAKOTE COLORS CAN BE SEEN HERE

***Please allow 10 business days to ship**
Features:
- Linerless on the clip side
- Right hand carry drilled and tapped due to the removal of liner, predrill for left hand carry (has to be punched through)
- Heavy pocketed interior for lightweight carry
- Aggressive chamfers provide excellent ergonomics
- Slight surface texture for added grip
Each kit comes with 2 grip panels, no backspacer is provided. As with everything else at AWT, these scales are machined from 6061 aluminum to incredible standards. Once machined, they get tumbled, cleaned, blasted, and Cerakoted to one of many colors. Please keep in mind that Cerakote is a ceramic paint, albeit tough, isn't indestructible. This coating will wear over time on hard edges and will develop a nice distressed/worn look over time.
Color names were derived from the Cerakote website. Cobalt, Gunmetal Grey, Burnt Bronze, Charcoal Green, Squatch Green, Blue Titanium, Cobalt Kinetics Green, Rose Gold, and Tequila Sunrise are all classified as metallic colors.
Give them a try, we guarantee you won't be disappointed. As always, our grips are backed by our Lifetime Warranty. If you break it, we replace it at no cost to you.

- Factory Knife With G10 Grips Weight: 5.1 oz.
- Knife With AWT Aluminum Grips Weight: 4.6 oz.
- Knife With AWT Aluminum Grips with Stand-Offs instead of Backspacer Weight: 4.2 oz.
-Factory Overall Width - 0.535"
-AWT Overall Width - 0.510"

Knives Plus Black Yojimbo Kit - https://www.knivesplus.com/black-replacement-screw-set-stainless-spyderco-yojimbo-knife.html

Knives Plus Satin Yojimbo Kit - https://www.knivesplus.com/spyderco-yojimbo-replacement-screw-set-stainless-satin-knife.html 

Reviews