Spyderco Para 3 Lightweight (LW) Scales – Agent Series – Linerless – Cerakote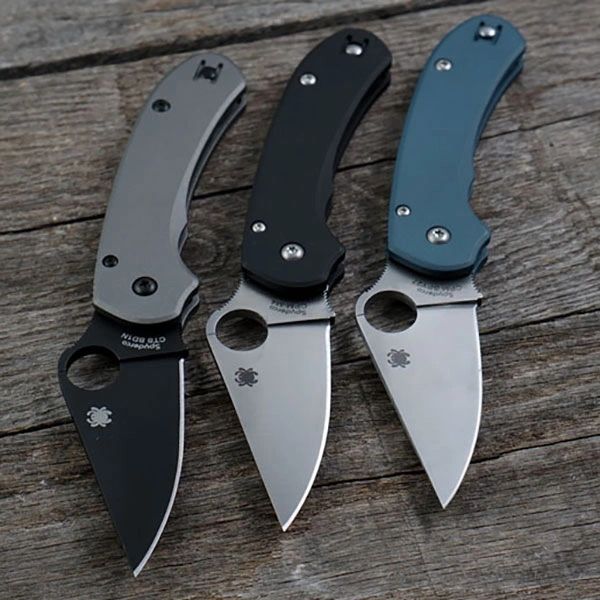 Spyderco Para 3 Lightweight (LW) Scales – Agent Series – Linerless – Cerakote
Spyderco Para 3 Lightweight (LW) Scales – Agent Series – Linerless – Cerakote
The Spyderco Para 3 Lightweight (LW) replacement scales are the most complex set of scales we have produced thus far. Our Para 3 Lightweight scales have taken more design, prototype, and testing hours than any other scale we've manufactured. We made sure they offer an upscale feel, a pleasant assembly experience, and a genuine improvement over factory.
The Para 3 lightweight model was introduced to bring a lighter, more cost-effective entry into the well-respected Para 3 line. It comes in a wide variety of steel types and handle colors to suit anyone's tastes. The reality of manufacturing with molded plastic, however, does have its limitations. We set out to fix that. Our scales increase rigidity, while only adding 0.15 ounces due to the extensive internal pocketing (to put that in perspective, a US Quarter weighs 0.2 ounces). The precision milled 6061-T6 aluminum adds strength and was designed to eliminate the single steel mini-liner and run on TWO washers. We utilize a second phosphor-bronze washer (included with purchase), to better facilitate proper centering, smooth action, and low wear/long life characteristics. They sport the unique Agent styling and skinny profile first introduced on our popular Para 3 G10 replacement scales.

The Para 3 Lightweight replacement scales feature ambidextrous carry options using your favorite wire clip whether it be stock or aftermarket. The aluminum provides superior strength in the clip area, preventing deformation that is often seen on the FRN models. The clip screw barrel is keyed which is nice unless you strip the plastic, making the clip very difficult to remove on FRN models, which won't happen on our aluminum scales. ***Please note that disassembly of FRN versions can result in a stripped keyed barrel at the clip. There is no easy way to remove this once it has been stripped. Please use caution when removing the screw at the clip.***

In a world saturated with aftermarket parts, the Agent series is something truly unique that stands out from the rest.
CERAKOTE COLORS CAN BE SEEN HERE
***Please allow 10 business days to ship***

Features:
- Completely Linerless

- Ambi carry

- Elimination of mini steel liner

- Heavy pocketed interior for lightweight carry, only adding 0.15 ounces to stock (equivalent to 1 x US Quarter)

- Aggressive chamfers provide excellent ergonomics, similar to a contoured scale
- Slight surface texture for added grip
- Includes additional phosphor-bronze washer

As with everything else at AWT, these scales are machined from 6061 aluminum to incredible standards. Once machined, they get tumbled, cleaned, blasted, and Cerakoted to one of many colors. Please keep in mind that Cerakote is a ceramic paint, albeit tough, isn't indestructible. This coating will wear over time on hard edges and will develop a nice distressed/worn look over time.
Color names were derived from the Cerakote website. Cobalt, Gunmetal Grey, Burnt Bronze, Charcoal Green, Squatch Green, Blue Titanium, Rose Gold, Cobalt Kinetic Green, Tequila Sunrise, and Sunflower are all classified as metallic colors.
Give them a try, we guarantee you won't be disappointed. As always, our grips are backed by our Lifetime Warranty. If you break it, we replace it at no cost to you.

Total weight difference is +0.15 oz
Factory Para 3 Lightweight weigh 2.40 oz
AWT Para 3 Lightweight weigh 2.55 oz
Reviews