BLEMISHED Spyderco Manix 2 Scales – Agent Series – Linerless – Anodized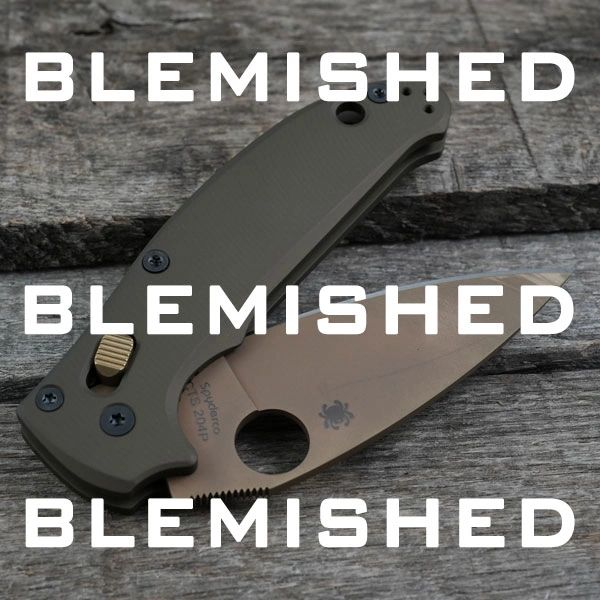 BLEMISHED Spyderco Manix 2 Scales – Agent Series – Linerless – Anodized
BLEMISHED Spyderco Manix 2 Scales – Agent Series – Linerless – Anodized
BLEMS ARE NOT RETURNABLE. SOLD AS IS.

On almost every batch we have blemished parts. They may have small defects such as minor machining marks or dings, but most common are color variations in the anodizing that are too far out of spec. Color variation between the two sides will be present, along with hard lines, and other color and texture issues. They fit, function, and are just as tough as our regular grips but they cost a lot less! They are a good way to get a great product at a significantly reduced price.
---FROM ORIGINAL LISTING---
The all new anodized Spyderco Manix 2 Agent scale was a totally re-imagined design. The linerless design reduces overall width and allows better access to the ball cage lock. The Skinny profile, made possible by eliminating the liners, vastly improves ergonomics.
The extensive interior milling and linerless construction reduces overall weight of the assembled knife by 1.5 ounces; a 30% reduction in weight when compared to stock! This results in a total assembled weight of 3.4 ounces, which is equivalent to carrying a Spyderco Para 3.
THESE DO NOT FIT THE LIGHTWEIGHT VERSIONS.

Lanyard tubes have long been a point of contention for many which led us to eliminate the need for one. A lanyard hole is milled into the scale to accommodate those who use them. Spyderco uses the flared lanyard tube to hold the butt-end of the knife together and since it was eliminated in our design, we had to create another contact point in that area. We milled a pocket for a barrel spacer and screws to increase rigidity and stability. Please note that hardware included (two handle screws and barrel spacer) is provided by Knives Plus.
In a world saturated with aftermarket parts, the Agent series is something truly unique that stands out from the rest.
Features:
- Completely Linerless

- Ambi carry

- Elimination of lanyard tube

- Heavy pocketed interior for lightweight carry, reducing overall weight by 30% when compared to stock

- Aggressive chamfers provide excellent ergonomics, similar to a contoured scale
- Slight surface texture for added grip
- Includes additional barrel spacer and 2 handle screws, provided by Knives Plus

As with everything else at AWT, these scales are machined from 6061 aluminum to incredible standards. Give them a try, we guarantee you won't be disappointed. As always, our grips are backed by our Lifetime Warranty. If you break it, we replace it at no cost to you.
Type III Hardcoat Anodized Colors - Black, Sniper Grey, OD Green, Flat Dark Earth, Brick Red, Billiard Blue
Type II Anodized Colors - Cobalt Blue, Weathered Red
You buy Type III hard coat for toughness not perfect color matching. If you want colors to be exact, please purchase Cerakote. Due to the nature of Type III Hardcoat anodizing there may be slight color variations from batch to batch or side to side. Sometimes there may also be some light mottling in the color, or the grain of the aluminum may show through the coating. This is normal and in NO way affects the performance or function of the grips whatsoever. We feel that it is a worthy tradeoff for a vastly superior coating hardness. The Type III coating we use is incredibly hard (harder than steel actually) and is the MOST durable coating available on the market.

Total weight difference is -1.5 oz
Factory G10 Scales with liners weigh 2.2 oz
AWT Scales with liner weigh 1.9 oz
Reviews