Streamlight Microstream C4 W/ FREE AWT Glow Collar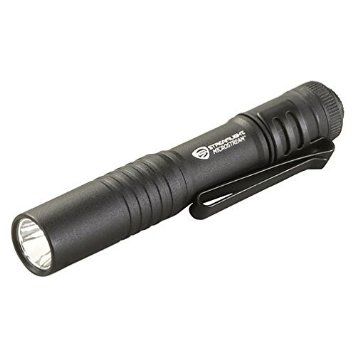 Streamlight Microstream C4 W/ FREE AWT Glow Collar
This small light fits in the palm of your hand, but doesn't compromise on power. Put this light in your pocket or clip it to the brim of your hat and have light wherever you go. Perfect EDC light and cheap enough to meet any budget.
White C4® LED delivers 45 lumens; 420 candela; 41m beam; runs 2.25 hours
Ultra-compact design fits in the palm of your hand, comfortably fits in your pocket
Removable pocket clip also clips onto brim of hat for hands free use
Type II MIL-SPEC abrasion and corrosion-resistant anodized aircraft aluminum construction with unbreakable, scratch-resistant polycarbonate lens
Includes by one "AAA" alkaline battery and high-strength "break away" safety lanyard.
Push button tail switch – momentary or constant on operation
IPX4 water-resistant
3.6" (91.5 mm); 1.10 oz (31.2 g)
Available in Matte Black
ALL STREAMLIGHT MICROSTREAMS PURCHASED FROM AWT INCLUDE ONE OF OUR GLOW IN THE DARK COLLARS FREE OF CHARGE!
***WE RAN INTO A FEW ISSUES WITH THE ROUND COLLARS CRACKING OVER TIME, SO NOW ONLY THE HEX COLLARS ARE AVAILABLE. ***