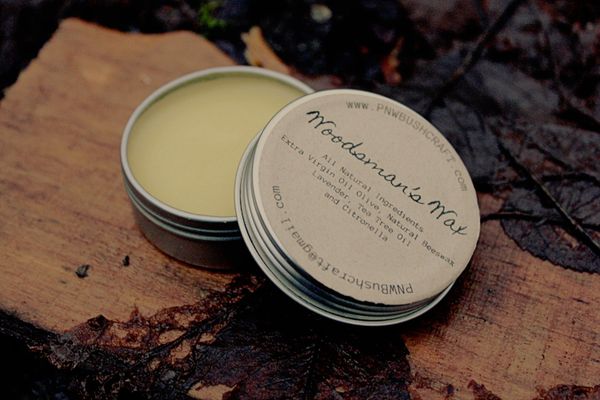 Woodsman's Wax
1 oz Woodman's Wax

The Woodsman's wax ingredients have been gathered to create a recipe that has been worked and reworked in our shop until it was just right. It has a wonderful consistency and scent that is perfect together. It contains all natural ingredients of Extra Virgin Olive Oil, natural beeswax, lavender oil, tea tree oil and citronella oil.

It has multiple uses.
You can use it to soften and protect leather.
Apply it to canvas to protect and waterproof.
Add it to wooden handles for a soft sealed finish.
Spread over metal surfaces to repel water and protect from rust
Use it on your hands to soften your dried and beat up skin.
***NO BAG IS INCLUDED, THIS WAS FOR PHOTO PURPOSES ONLY, BAGS ARE AVAILABLE IN OUR STORE***

Each item is designed, created, hand crafted, and tested in a small shop in the beautiful Pacific Northwest of America. All of their items are made with great care and top of the line materials with the intent that the item will be with you for a long time. They value traditional skills and a beautiful handmade product.