Pathfinder Mini Inferno Fire Starting Material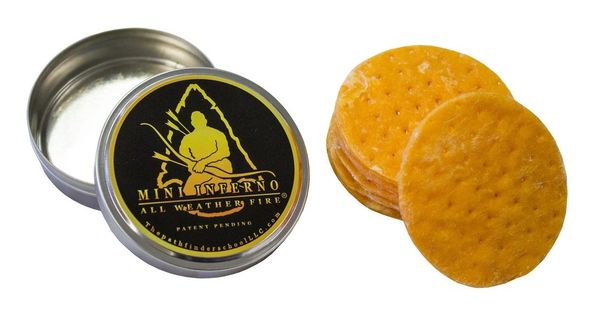 Pathfinder Mini Inferno Fire Starting Material
Being cold sucks. So does eating cold food. Never again will the elements determine your fate when it comes to keeping warm or enjoying a nice hot meal. The journey from no fire to sure fire couldn't be easier. Simply tear a disc to expose the fibers and hit it with a spark, it's that easy. Each disc provides 5-7 minutes of flame providing you with ample time to turn your mini fire into a sustainable heat source for core temperature control and camp cooking. Even in harsh, wet and flat out soggy environments, Mini Inferno is your way to sure fire anytime, every time. When you carry an Inferno, you're never left out in the cold.
Specs:
Each disc burns for 5-7 minutes
100% Waterproof – Moisture actually increases burn time!
Holds 6 Mini Inferno Discs (color of discs may vary)
Extremely long shelf life
More about our container:
Tin diameter 2 ½ inches
Create Char Cloth
Use the lid as a signaling device
Holds 6 Mini Inferno discs (color of disc may vary)
(Stove & Cup pictured are NOT included)
Made in the USA by Self Reliance Outfitters, a division of The Pathfinder School, LLC. This is a Patent Pending Pathfinder Product.