Full Size Griptilian Hive Pattern Combo Kit (Knife+Custom Scales)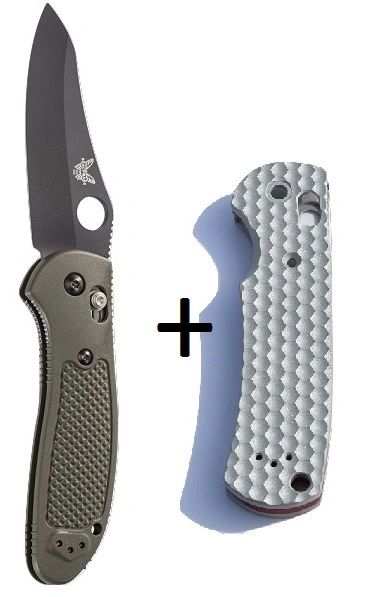 Full Size Griptilian Hive Pattern Combo Kit (Knife+Custom Scales)
***AWT IS AN AUTHORIZED BENCHMADE DEALER AND WE JUST RECEIVED WORD FROM THEM THAT IN ORDER TO KEEP OUR DEALER STATUS WE ARE NO LONGER ALLOWED TO SELL THESE PRE-ASSEMBLED. SORRY FOR ANY PROBLEM THIS MAY CAUSE, REFER TO THE INSTALL VIDEO BELOW FOR ANY QUESTIONS. INSTALL IS SIMPLE AND STRAIGHT FORWARD***
The latest from AWT displays this beautiful Hive pattern milled directly into the surface of the scales. This provides not only a one of a kind truly attractive look, but also more grip from the textured finish. These Hive pattern combo kits are a screaming deal. Save some cash over purchasing a knife and Hive pattern scales separately. You simply select your Benchmade blade color and style, then choose what color AWT scales and back spacer you want from the drop down menus above. Drop the hassle and order your AWT Combo kit today!
*NOTE, we do not have or sell the deep carry pocket clips seen in some of the pictures. You will need to contact Benchmade directly to request one.*
-Full size Griptilian plastic factory grip weight: 0.8oz
-Full size AWT grip weight with backspacer: 2.0oz
-Full size AWT Hive grip weight with backspacer: 1.7oz
-Mini Griptilian plastic factory grip weight: 0.5oz
-Mini Griptilian AWT grip weight with backpacer: 1.1oz
-Mini Griptilian Hive grip weight with backspacer: 0.9oz
*All blades are non serrated and are standard S30V steel.
*Most orders ship within 24 hrs Mon-Fri
Due to the nature of Type III Hardcoat anodizing there may be slight color variations from batch to batch or side to side. Sometimes there may also be some light mottling in the color, or the grain of the aluminum may show through the coating. This is normal and in NO way affects the performance or function of the grips whatsoever. We feel that it is a worthy trade off for a vastly superior coating hardness.The Type III coating we use is incredible hard (harder than steel actually) and is the MOST durable coating available on the market.


For help with installation please refer to our YouTube video below:
https://www.youtube.com/watch?v=TBqJZ_ZLkgs