Benchmade Mini Adamas Replacement Scales – Smooth or Rib Cage Surface – Cerakote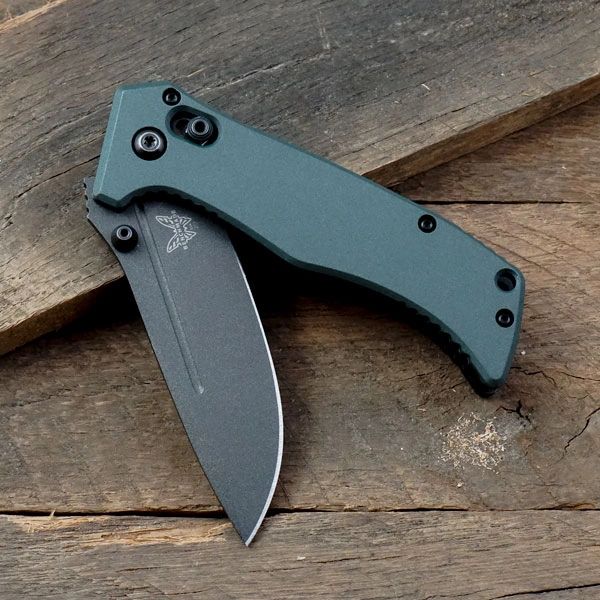 Benchmade Mini Adamas Replacement Scales – Smooth or Rib Cage Surface – Cerakote
Benchmade Mini Adamas Replacement Scales – Smooth or Pattern Surface – Cerakote

Add color, style, and toughness to your Benchmade Mini Adamas with our precision milled 6061-T6 aircraft aluminum replacement scales. These scales have a Cerakote finished and come in a variety of colors. Milled for right hand carry only which gives that smooth, elegant look while also being predrilled for ambidextrous carry. Overall thickness is reduced from 0.158" (stock) to 0.130" while weight slightly increases 0.1oz (rib  cage) to 0.2oz (smooth). Overall weight with AWT scales installed is 4.8oz (smooth) and 4.9 oz (rib cage).
Give them a try, we guarantee you won't be disappointed. Like everything else here at AWT, these grips are backed by our Lifetime Warranty. If you break it, we replace it at no cost to you.

These are designed and precision milled right here in Texas!
CERAKOTE COLORS CAN BE SEEN HERE

***Made to order - Please allow 10 business days to ship***
DON'T WANT TO WAIT - GRAB A SET OF THESE IN ANODIZED ALUMINUM HERE!!

Color names were derived from the Cerakote website. Cobalt, Gunmetal Grey, Burnt Bronze, Charcoal Green, Squatch Green, Blue Titanium, Rose Gold, Tequila Sunrise, and Sunflower are all classified as metallic colors.

-Factory Mini Adamas G-10 grip weight: 1.0oz
-AWT Mini Adamas AWT Smooth grip weight: 1.2oz
-AWT Mini Adamas AWT Rib Cage grip weight: 1.1oz
-Factory Overall Mini Adamas Knife weight: 4.6oz.
-AWT Smooth Installed Overall Mini Adamas Knife weight: 4.9oz
-AWT Rib Cage Installed Overall Mini Adamas Knife weight: 4.8oz

If you're interested in reading about Cerakote durability, https://www.cerakote.com/resources/testing


Reviews